Africa Fast Track
Meet and Assist services
VIP and Executive Airport Assistance in African Airports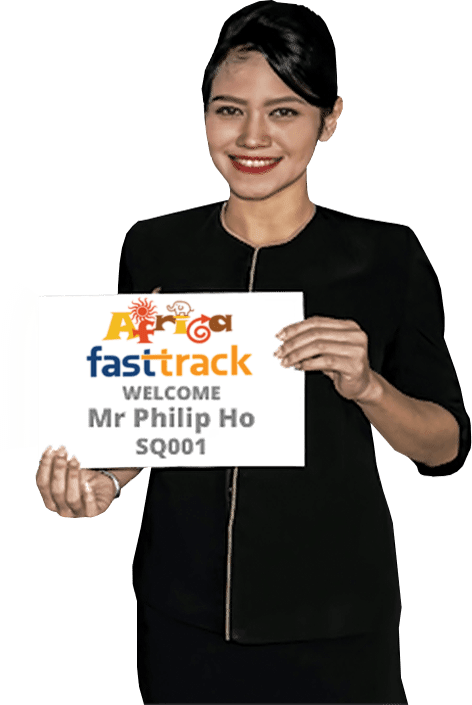 Airport Meet and Assist Service in Africa for any traveler, flight or airline.
Fast Tracked Arrival
Our Africa Airport Meet and Assist staff meet you at the air bridge and help you pass through immigration to the baggage reclaim and customs, and then out to your driver, quickly and easily.
Smooth & Easy Connection
Connection help through African airports between domestic and international flights will make it simple. We will assist you as needed with check in, boarding passes, immigration and baggage.
Rapid Departure
Our service makes departure easy. Africa Fast Track's greeter contact your driver, meet you at the kerbside and assist you through check-in & immigration, to your lounge or gate.
Simple Transit
Africa Fast Track's transit service is the quickest way between two International flights. We meet you at the airbridge, and take you to your lounge or the departure boarding gate.
Helpful Staff
Africa Fast Track's local partners are properly licensed and all greeters have air-side security clearance. They use their local knowledge to ensure a fast, easy & safe service at the airport.
VIP Airport Assistance by Africa Fast Track.
Continental Africa has some of the busiest and most difficult airports in the world.  Airport Meet and Assist will let you pass through them quickly and easily.
Our booking team will E-mail you the detailed service information, and help you choose the right service. Or if you know what you want, you can book and pay online.
Inside the airport our local English speaking staff will be your personal assistant. They will help you avoid lines, resolve unexpected problems and bypass airport hassles.
Airport Meet and Greet is available to any passenger, in any cabin class, on any airline. It is offered across the whole of Africa in all major airports.
Enjoy a first class experience at the start or end of every flight.  Choose Africa Fast Track, as we make every service personal.
US$30 off when you book online.
Ordering online is easy, just like booking a flight or hotel.  When you know what you want, click on BOOK NOW.   A US$ 30 discount is available for all Meet & Assist bookings.  Full terms of discount offer. If you are not sure what service you need, click on E-MAIL A REQUEST.  Our customer service team will answer your questions,  and will send a service description & quote.  So you book the exact help you need.
Book it now
Request a quote
Book Online
with instant confirmation
Request a Quote...
Not sure what you want? Fill in the "Request a Quote" form. We will reply with options, prices and African service information.
SECRETARY
"…Dinesh confirmed everything went very well! I love this service. It lets me sleep at night!…"
LOW COST AIRLINE TRAVELLER
"…Everything was great again with this departure, very smooth. Thank you so much for your assistance with this…"
PASSENGER IN A HURRY
"…Thank you so much. With this kind of quick service, I definitely will use you again…"
EMERGENCY HELP
"…Phillip your company did a wonderful job!! I talked to Jude several times as they were diverted to Wellington and would not had made the flight without his help.Every flight was full for days ! I cannot tell you how happy I was for your service!!! Jude did a great job! Thank you again!…"
SINGLE FEMALE TRAVELLER
"…The person that met me was outstanding. Thank you kindly – it was great…"
BUSINESS TRAVEL AGENT
"…Thank you again for today's service. Yes, the clients commented that everything was very smooth and they did use the word perfect…"
BUSINESS PASSENGER NEW AIRPORT
"…I met with Jason and he had very efficiently taken me through all the processes and speedily too. Looking forward to using you again…"
AFFINITY GROUP ORGANIZER
"…Thanks for all your help during our recent trip to Vietnam. It made our trip very easy…"
DEPARTING ELDERLY COUPLE
"...We are at the gate. the greeter was lovely. Very easy process. Thank you..."
EXECUTIVE ASSISTANT
"…I wanted to thank you for the seamless arrival service for Eric today – he appreciated it a lot! As he travels to Shanghai regularly, you can be sure we will soon book your services again…"
FAMILY TRAVELLER
"…I just wanted to extend my Thank you and feedback. My mother really liked the service and I would like to give a testimony / feedback for the same. Thank you once again and will definitely recommend and use your services again !.."
AIR TO SEA CONNECTION
"…Perfect. Thanks so much for your help you have been brilliant…"
TRAVEL MANAGEMENT COMPANY
"…Thanks so much Sam, swift and efficient and so easy to use. We will use you for these services in future…"
LUXURY TRAVEL AGENT
"…You guys were great, thank you so much, will definitely keep your info for future. I do get requests for this type of service frequently, so will be in contact again soon…"
BUSINESS CLASS TRAVELLER
"…I want to commend Patrick on the fine job he did for us...without his help it we might have missed our flight. You run a very good service…"
CONNECTING PASSENGER
"…Many thanks for the great service and silky smooth transition!…"
CORPORATE TRAVELLER
"…Thank you so much for all the wonderful work your doing, thank you! all the greeters and assistants were so helpful and very nice at all the airports, I'm very grateful…"
ECONOMY CABIN BUSINESSMAN
"…Philip, Wanted to sincerely thank you for doing such a great job at the last moment. Yaniv sent me a message that your service was superb...."
HOTEL CONCIERGE BOOKER
"…Everything worked perfectly. It was a great service. We certainly will be repeat customers…"
IN HOUSE COMPANY TRAVEL EXECUTIVE
"…Thank you again for all of your help, you and your team have been wonderful. 3 pairs of eyes looked at this. And all missed the most important detail..Again thank you kindly…"
African Countries, Cities and Airports with Fast Track's service