Increase Your Ancillary Revenue
Become a Fast Track partner
If your business is travel related then you can increase your income by being a Fast Track partner
We designed, built, owns and operates a set of booking tools that lets travel arrangers ask about, order and pay for airport Meet and Assist services.
Our tools will help you or you customers make airport service bookings online: these will increase your ancillary or incidental revenue.
Our partner program solutions include:
Free registration for our commission scheme
Insertion of a fully autonomous widget into your website or blog (n0 set up fee)
Use of iFrame to embed our booking tool
Use our APIs to connect your primary booking system with ours
These solutions will generate earnings for you on any sales that have been initiated through your booking channel.
Please read on to understand which of the 4 solutions would benefit you the most.
1. Commission Scheme
You can register free and claim commission on every meet and assist booking you make with us.
Commission is paid:
on Meet and Assist services
to registered businesses or individuals
on full price (un-discounted) bookings
at a rate of USD 30 per booking
thirty days after the service is completed
when a claim is received and has been verified
by PayPal transfer
To receive commission the person booking and claiming must first register with us. Registration is free, instant, takes under one minute to complete, can be done at time of placing the order, and requires only a name and email to be given. The party registering (the Registrant) can be a company, organization or a person.
Detailed rules of the scheme are here: commission rules
Registration is here register for commission
2. Website/Blog Widget
If you have an existing travel related website or blog then you can install a Fast Track "website widget:, which is a good way of increasing your business revenues.
You place the widget on your website or blog where your readers and visitors will see it. Through the widget they can select an airport, find out what services are available at that airport and then get an instant quote for that service. After that they can click to book the service on Fast Track's website where they also see a detailed service description.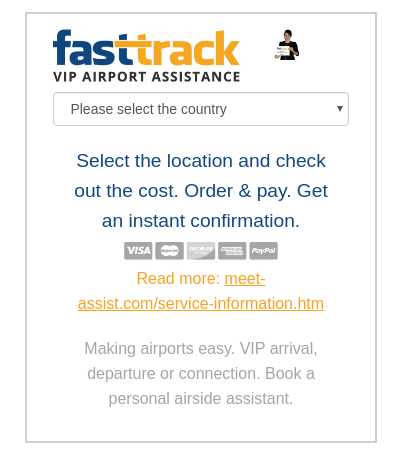 The widget is autonomous and self contained. Once it is installed and you have entered your personal code then there is nothing more to do.
We are the merchant of record and we collect payment for the service on our website. The person booking pays our normal published rates and you will be paid commission on sales made through your website widget.
Two types of widget are available:
A widget specific for WordPress websites (i.e. a WordPress plugin)
A widget that can be installed on any website
The widget can be seen in action on the front page of the website link below
Widget example on the Tour Guide Myanmar website
It is very easy, and there is no fee or commitment. There are two steps:
first, click on the link below to register as an agent with Fast Track : we will send you the codes/plugin to insert
second, drop us an email requesting the tracking codes for your widget (until you do that we will not be able to track your bookings and get your commission)
Register for the Fast Track widget
3. i-frame Embedded Booking Tool
This has all the benefits of the booking widget described above, and in addition the customer does not need to leave your website to complete their booking
The whole Fast Track booking tool for airport services will be displayed as embedded in your website. Booking and payment actually takes place on our servers but the customer sees the tool as being part of your website. There s a USD100 charge for IT implementation
To register interest for the i-frame embedded booking tool, click on the link below to register as an agent with us : we will contact you
Register for the Fast Track i-Frame
4. Booking Tool API
If you already have a travel booking tool on your website then you can benefit from exposing and offering our airport related ground services (meet & assist, lounge, chauffeur) from within your existing booking environment.
In the first instance, for a quick start, we will be the merchant of record and will collect payment at published rates and you, our Partner, will be paid commission on the sales you have generated.
For large and long-standing API partners there is also the possibility of you being merchant of record, and paying us on an account basis, or even to have a bespoke enhanced set destinations and prices that permit a higher rate of commission to be paid.
The customer remains on your website and within your travel booking tool throughout the duration of the booking process and is not conscious that the airport add-on service booking is actually being processed by our booking tool.
the Booking Tool API helps you to generate ancillary revenues from add on service by :
Allowing your booking tool to determine which services are available
Offering detailed service descriptions that display inside your booking tool
Providing instant pricing of a chosen core service
Incorporating variations like late night or short notice add ons, infant discounts
Permitting the booker to order their chosen service through the API.
This option is also open to local airport service providers to use our systems to sell additional or onward services to their clients: for example departing passengers can be offered an arrival service at the next airport; or chauffeur car operators can use it to book meet and assist for their VIP passengers.
To learn more about how to be an API partner please contact us at the email address below.
ceo@asiafasttrack.com